Live video that helps you grow
A studio in your browser you use to live stream & record interviews, product videos, podcasts, training videos and more.
Viewers watch on LinkedIn, Facebook, YouTube, Zoom, Teams or other platforms.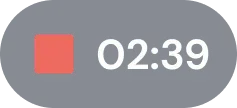 Create and share live video – straight from your browser
Get creative and make videos like a pro – no experience required
Live video that helps you grow
Live video connects you to your audience like nothing else. Showcase your authentic brand voice and let your expertise shine. Consistently great video builds your brand reputation and engages customers too.
Valuable video, at your fingertips
86% of marketers say that video is effective at generating leads. No matter what your marketing goals are, video can help you achieve them. From simple live streaming to fully managed broadcasting, one thing is certain: video equals ROI.
Marketers, make your mark
Creating video isn't just for experts. Beam gives you the tools and the knowledge to succeed with video. With our intuitive software, you'll have the skills to effortlessly create video that makes an impression on colleagues and customers alike.
Types of video you can create with Beam:
Frequently asked questions
Live streaming, also known as 'streaming', is the act of broadcasting video or other media over the internet, in real time. The concept is similar to broadcasting live television.
What do businesses use live streaming for?
Live streaming is a great way for businesses to boost brand awareness and enhance employee engagement. It's also used as a platform to connect with new audiences. Live streaming allows a business to meet customers or employees 'where they are' without needing to entice anyone to a physical event, for example. Live-streamed content can also be repurposed into marketing collateral, video on demand (VOD) content, or even edited into short snippets for use in social media posts.
What are the benefits of live streaming for a business?
When live streaming, the on-screen action happens in real time. A live broadcast means there is nowhere for the presenters or interviewees to hide. This immediacy helps to build a brand's trust and credibility. Live video also allows an audience to get to know a business, presenter or employee. This enhances the relationship between the brand and the audience and boosts engagement with content. 
Who can use Beam for live streaming?
Anyone can use Beam! It's so easy, you can live stream without any experience. There are a few people in particular that will find Beam super useful: 
Brands and businesses, from tech start-ups to multinational corporations
Marketing professionals who are responsible for those brands
Event managers running online and hybrid events
Social media content creators
Can you use Beam for free?
Yes! Beam offers a selection of its features on a free 14-day trial. To start live streaming today, click here.
Effective live streamed video content, without the effort
Create live video on any scale