Professional live streaming for B2B marketers
A powerful, reliable streaming tool that gives you the control of a broadcast expert. No experience necessary.
Three steps to a professional live stream​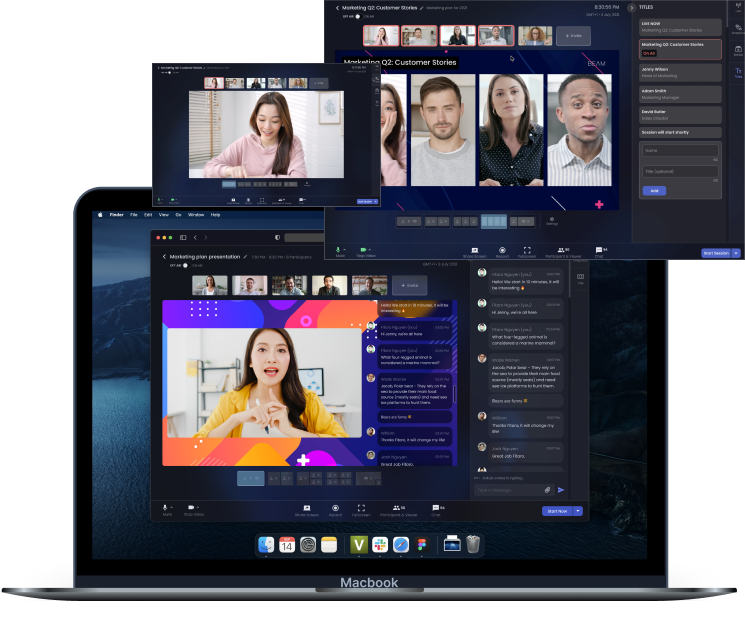 1. Connect
Connect to your desired video platform
2. Brand
Personalise backgrounds, logos, colours and titles. Invite your guests.
3. Stream
That's it! You're ready to go - broadcast live and welcome your audience.
Don't keep your audience waiting
A host of powerful yet accessible features allow you to focus on what matters: connecting with your audience
Impress your audience, stand out from the crowd
Quality video content that creates a lasting impression
Customers and employees expect the best from trusted brands. Whether you're looking to launch a new product or retain talent, the right impression matters. It's the difference between whether people are engaged in your content or not – and whether they keep coming back. 
Create brand experiences, exceed expectations
Full control of your live streaming output
Don't just stream video, give audiences an experience with your brand. Customise brand colours, insert logos, add branded backgrounds and graphics, and include pre-recorded videos in just a few clicks.
No software downloads or updates required
Beam runs completely in your browser; no need to download anything and risk your organisation's security. And no annoying updates right before you go live: if you're ready to live stream, we're ready for you.
Frequently asked questions
Live streaming, also known as 'streaming', is the act of broadcasting video or other media over the internet, in real time. The concept is similar to broadcasting live television.
What do businesses use live streaming for?
Live streaming is a great way for businesses to boost brand awareness and enhance employee engagement. It's also used as a platform to connect with new audiences. Live streaming allows a business to meet customers or employees 'where they are' without needing to entice anyone to a physical event, for example. Live-streamed content can also be repurposed into marketing collateral, video on demand (VOD) content, or even edited into short snippets for use in social media posts.
What are the benefits of live streaming for a business?
When live streaming, the on-screen action happens in real time. A live broadcast means there is nowhere for the presenters or interviewees to hide. This immediacy helps to build a brand's trust and credibility. Live video also allows an audience to get to know a business, presenter or employee. This enhances the relationship between the brand and the audience and boosts engagement with content. 
Who can use BEAM for live streaming?
Anyone can use Beam! It's so easy, you can live stream without any experience. There are a few people in particular that will find Beam super useful: 
Brands and businesses, from tech start-ups to multinational corporations
Marketing professionals who are responsible for those brands
Event managers running online and hybrid events
Social media content creators
Can you use BEAM for free?
Yes! Beam offers a selection of its features on a free 14-day trial. To start live streaming today, click here.
Live video that helps you grow